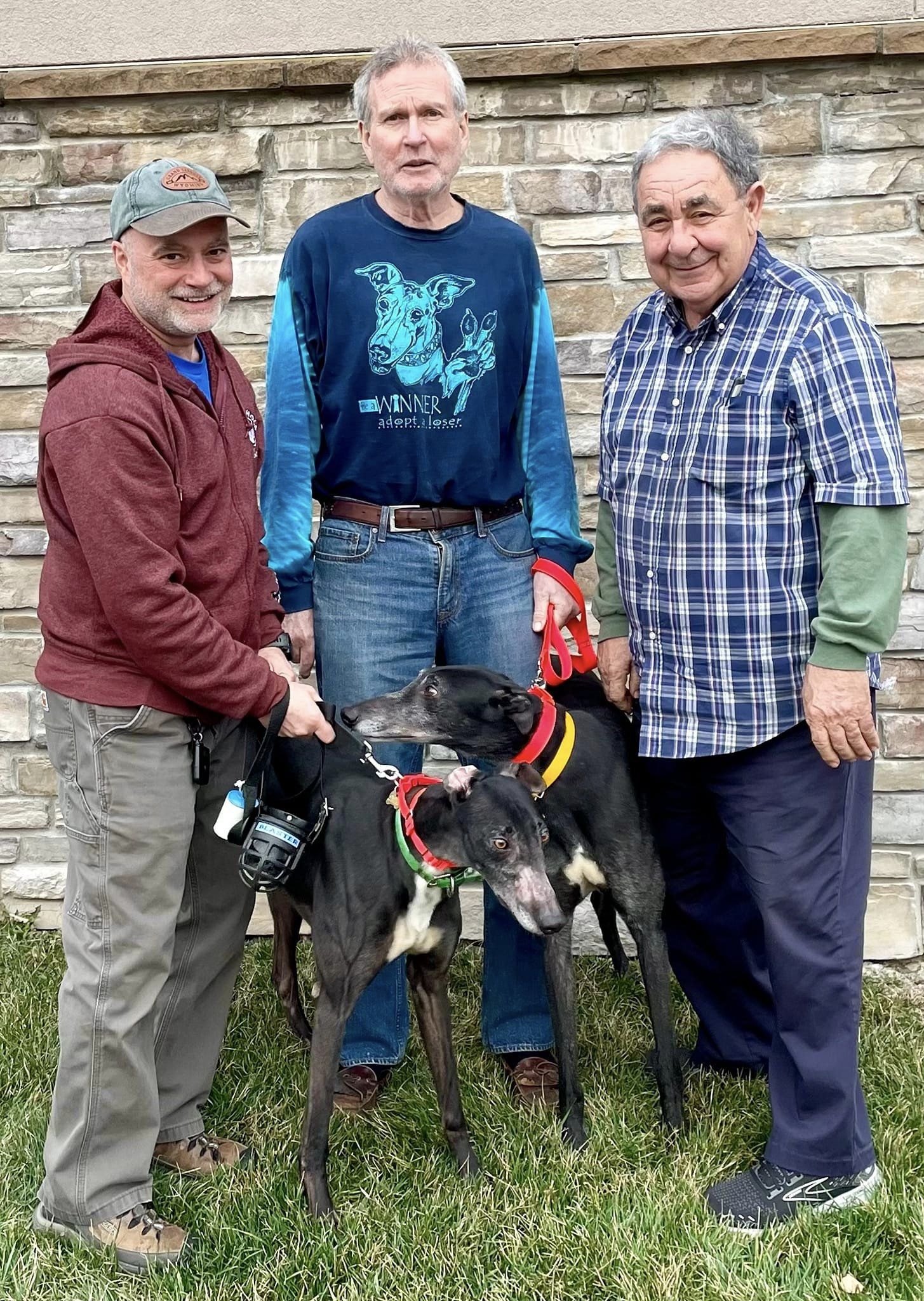 The Adoption Procedure
You can apply to adopt three ways.
1 – Online, complete the application and click Submit.

2 – Download and complete the application, scan it, and email it to us at [email protected]

3 – Download and complete the application, and mail it to us at
PO Box 488
New Hope, PA 18938
All three methods require a $20 fee which will be credited to you should you adopt. It is non-refundable. You can include a $20 check if you mail your application, or send $20 to our PayPal account via the DONATE button. Please indicate that this is for the application you submitted. If this is your first time adopting from us, you will be sent a copy of Adopting the Racing Greyhound. Even if you have adopted from us before, you still must submit the $20 fee with your application. You will not, however, get another copy of the book. Once we receive your application and $20., your application will be considered active. If applicable, we will send you a copy of Adopting the Racing Greyhound.
We deliver all dogs to those who are adopting from us for the first time. This acts as a combination home visit, and gives us a chance for us to see how the dog reacts to its new surroundings.

Of course, if when you meet the dog you take an instant dislike or just don't have a good feeling, you are under absolutely no obligation to adopt. Conversely, if we observe that a dog is extremely uneasy in your environment, we will discuss picking a different Greyhound at another time. If we determine that your environment is unsuitable or unsafe for a Greyhound, or not as you described it, we will cancel the adoption altogether.
However, if you meet the dog and feel that he or she is a great choice, we will proceed with the adoption and leave the Greyhound with you. We require the full adoption fee at this time—the balance of $655 for first-time adopters (who will have sent $20 with their application and will have received the adoption book), and $655for repeat adopters (who have not sent $20 in advance and who already have the book).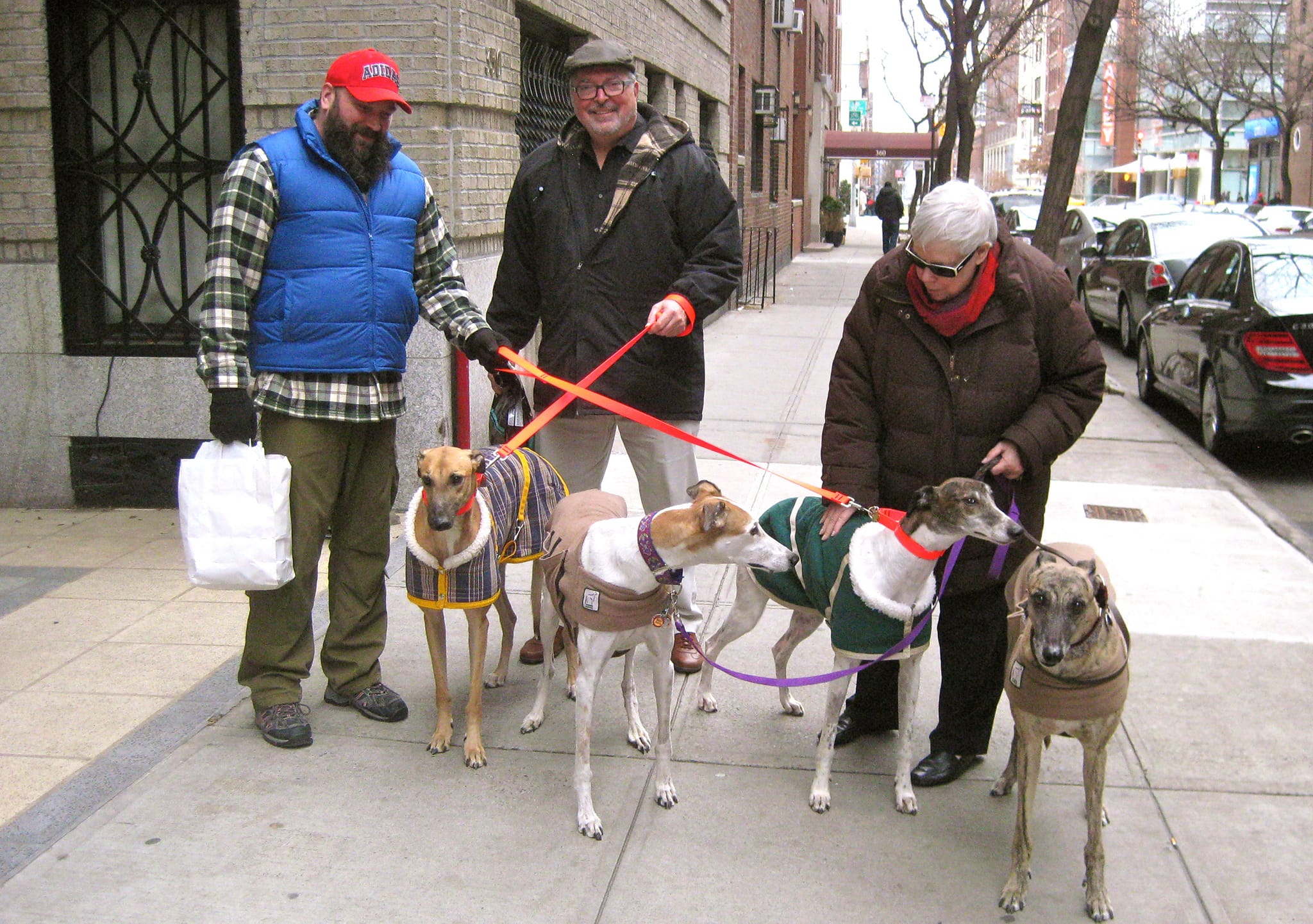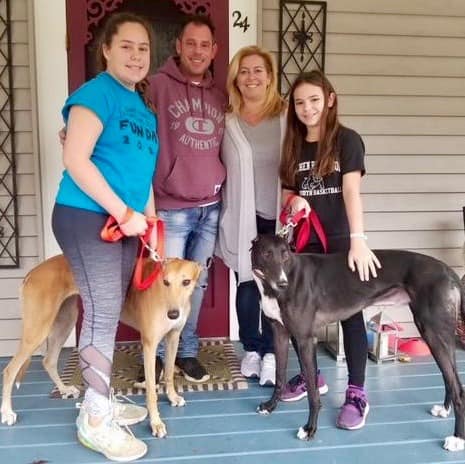 Once your application is active, we'll first call your veterinary reference. If you have none, we will ask for a reference from a landlord, employer, or a potential veterinarian who you have contacted in advance. We will also conduct an in-depth telephone interview with you.
If you are approved to adopt, we will discuss potential candidates with you and will suggest a dog that we think will best suit your situation. All of our dogs are fostered before they are adopted and the foster parents give us a very accurate picture of what a dog is like–something not possible with dogs who are kenneled. If you agree to the choice, we'll proceed to the next step.
Since our foster homes are scattered far and wide, you will meet your prospective Greyhound on adoption day. We deliver all Greyhounds to first-time Make Peace adopters as well as fosters who have not adopted from Make Peace. This serves as a home visit on our part, gives you an idea of what the dog is like in your environment, and how he or she reacts to you and to any other pets in the home (if applicable).
What is the Adoption Fee?
Effective October 1st, 2023, the fee will be $675. Applications submitted and approved before then will be honored at the old rate. The adoption fee includes the following:
Please note that this fee does not cover all of the expenses we incur and any donations are greatly appreciated. While most dogs come to us in relatively good shape, we also accept those who are sick or injured. Your support will help us continue to help even those dogs who are in need of additional, and often costly, veterinary care.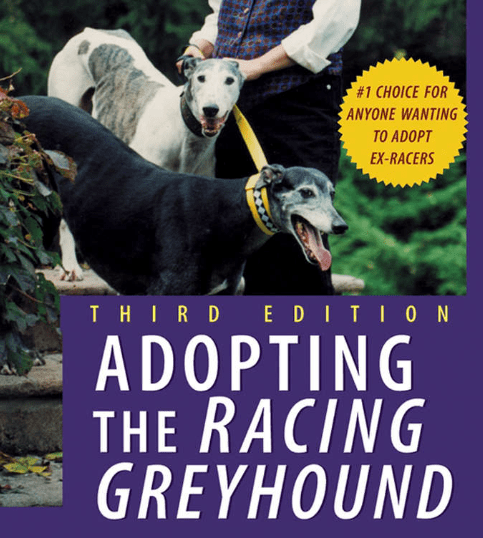 We are the organization that wrote the book on Greyhound adoption! Since Adopting the Racing Greyhound was first published (Howell Book House, New York, 1992) it has sold over 100,000 copies worldwide and in the summer of 2003 was released in an expanded Third Edition.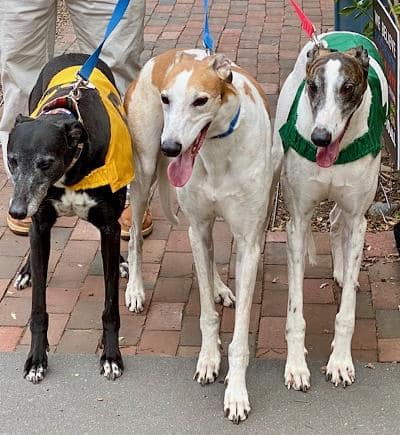 To quote Joan Belle Isle of The Greyhound Project "The book that has had the single biggest impact on Greyhound adoption, Cynthia Branigan's Adopting the Racing Greyhound has become required reading for many new Greyhound adopters around the world.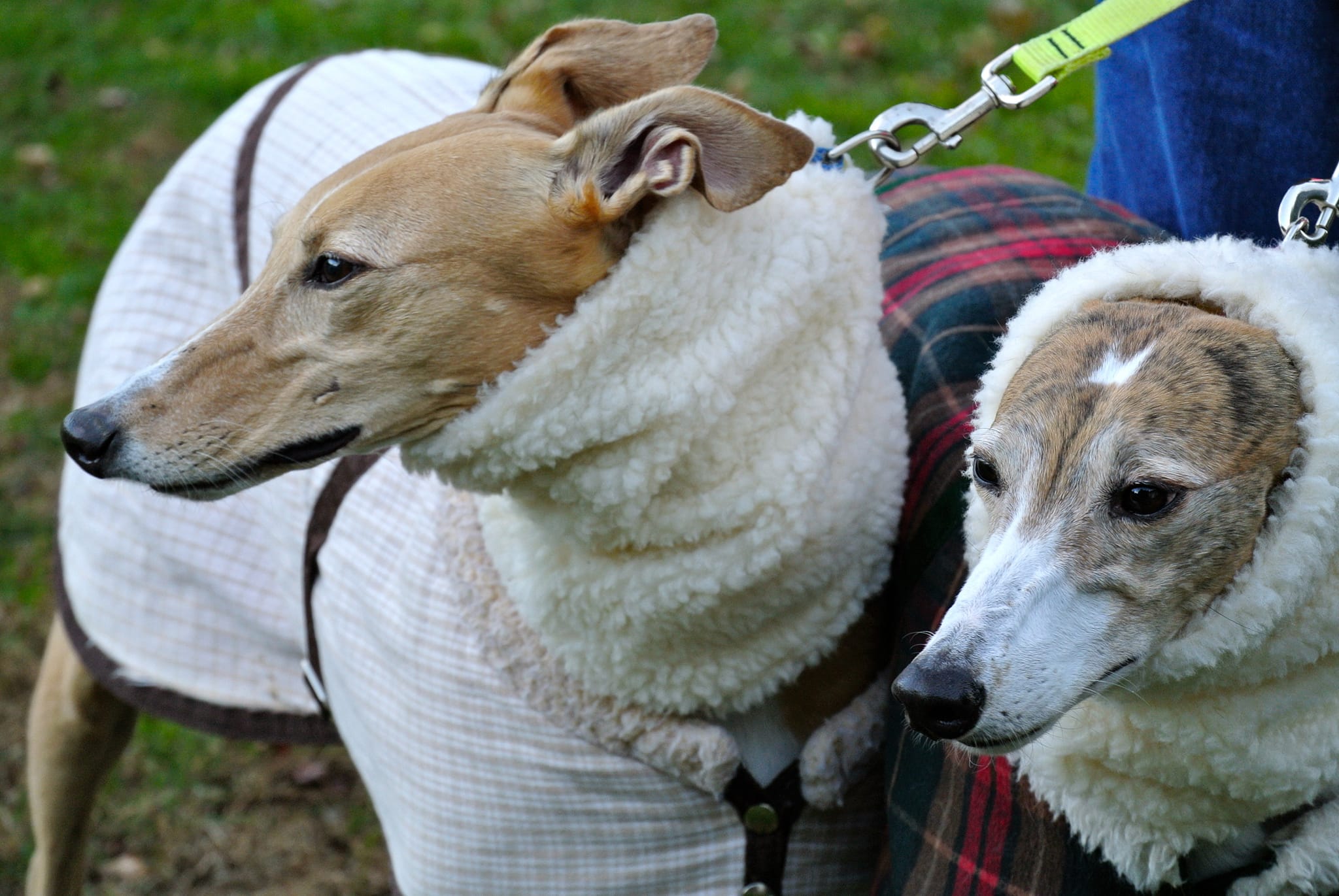 To those of you who are as sure as you can be that you are ready for the joys and challenges of adding a new member to your family, read on! If you have further questions, do not hesitate to call your local coordinator. Our commitment to you, and to the Greyhounds, begins right now!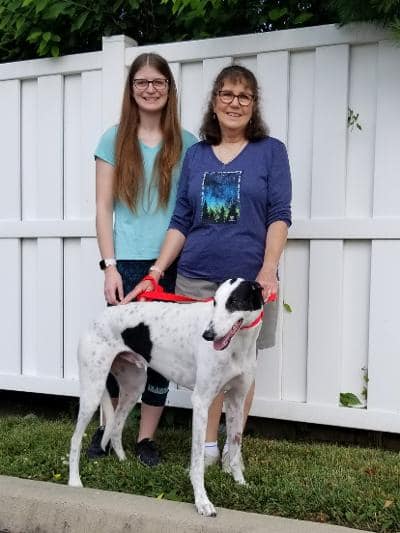 We placed our first Greyhound in 1988 and, since then, have found homes for over 5,000 others.
All of this has been accomplished by an extraordinarily dedicated group of volunteers. None of our staff is paid and most have full-time jobs. Nonetheless, the defining characteristic of our group is the individual care each adopter receives, both before and after the adoption. We take great pains to match the right person with the right dog. If there needs to be some fine-tuning after the fact, we are there for you. If unforeseen circumstances require you to return a dog, we gladly accept him or her back; in fact, we insist on it!
As you read the suggested material, please think carefully about why you want to adopt. Do you really want a dog or do you just want to ease the Greyhounds' plight? Do you have the time, money and energy to devote to a new animal? As much as we'd like to think it will all be smooth sailing, sometimes pressures from family and work can interfere with our ability to care for an animal properly. Should your Greyhound ever become ill, particularly as he or she gets older, do you have the necessary finances to give him or her the best possible care? While we do not want to discourage you from adopting, we do want you to make an informed decision. ADOPTING AN ANIMAL IS A LIFETIME COMMITMENT! Please consider all aspects of acquiring one before submitting your application. There are many ways you can help apart from adopting and our local representatives will be glad to make suggestions.
To those of you who are as sure as you can be that you are ready for the joys and challenges of adding a new member to your family, read on! If you have further questions, do not hesitate to call your local coordinator. Our commitment to you, and to the Greyhounds, begins right now!